POON HILL, the terrace on the himalayas
Nepal is a narrow strip of land between India and the Himalayas, a contort connection between the two, an unfortunate country, torn apart by earthquakes and the persecutions of the juggernauts which surround it.
If you happen to come here, it is likely you are seeking for adventure, to reach the highest peaks of the world. As you'll come back because of its people, that welcome you with their peacefulness and calmness.
The scratches of the dramatic earthquake of 2015 are still there, in the center of its capital, Kathmandu. Where temples and palaces were shining, now there's just rubble. But it was adventure tourism which made the economy grow again, hoping Covid won't led it to ground zero again.
For sure the most popular and fascinating among all the possible treks, which are a lot, is the one that makes you reach the highest mountain on earth, the roof of the world, Mount Everest (that can be seen even from Kathmandu!). Anyway in case you're not well prepared for such a harsh climb and you do not have the required 12-14 days to finish it, there is another option, not less fascinating: the Poon Hill trek, i.e. the terrace on the Himalaya.
This astonishing trek, that is part of the largest ABC trek (Annapurna Base Camp), is recommendable for many reasons: it is relatively short (4-5 days long), it doesn't reach high altitudes (3200 m max), it embraces landscapes so different one from the other and it shows one of the most beautiful view in the world, once you reach the terrace of Poon Hill! A place where you could gaze at some of the highest mountains of the Himalayas: Annapurna south (7.219 m); Dhaulagiri (8.167 m); Machapuchare (6.993 m), also known as fishtail, and Mardi Himal (5.587 m).
Here some tips to enjoy this awesome walk with an extraordinary view!
WHEN
The best time to go there is during spring and autumn. In spring forests are at their best, green and flourishing, even if it is very crowded. Probably autumn is the best choice, because of its clear skies and not so crowded trails and accommodations.
Talking about summer, it is not recommendable because it's monsoon time, that means heavy rain, covered sky and low visibility of the peaks. In addition you will find a lot of leeches: actually they will find you, sneak into every small hole of your pants and voraciously stick to your legs.
Anyway summer could be the only time available for your vacations. If so, I'll say…go! Weather on the mountains is unpredictable, above all in the end of August it will be likely to have nice sunny days and a good view of the peaks. In my case, I was not so lucky, because I couldn't see Poon hill with a clear view (as you can notice from my Joker face in the picture below). But I took my revenge the day after, in Tadapani, where I enjoyed one of the best sunrise of my life, with all the mountains clear above me. Probably a feeling even bigger than I thought, totally unexpected.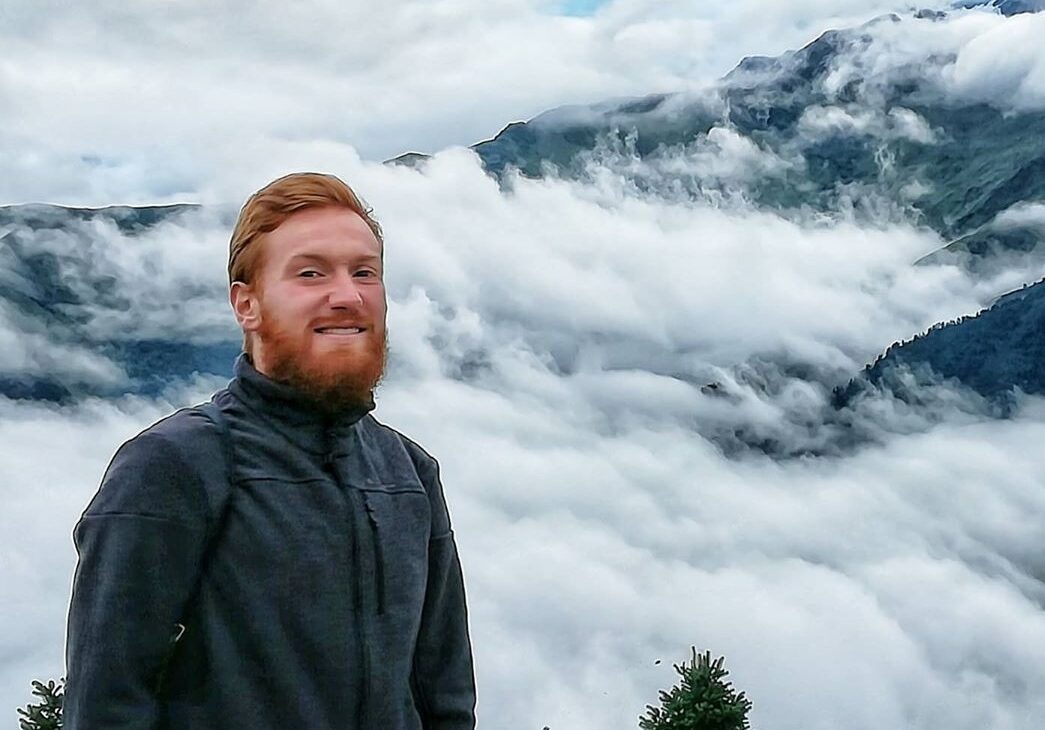 Moreover leeches can be annoying, causing bleeding and itching, but not dangerous for our health. They can be sent away with some salt on them, putting a leaf of rhododendron close to them, or using some adhesive tape to seal the lower part of our pants.
For the summer season I only recommend to hire a local guide, to be aware of any possible danger, because of frequent landslides and fast rivers.
EQUIPMENT
Your backpack will be equipped with just what you need for these 4-5 days and should be as light as possible to better walk in the mountains. Seize the chance to leave everything unnecessary in your hotel in Pokhara. The must-have will be:
t-shirts made of technical textile;
tights, gloves and warm undershirt (guesthouses not always have heating system);
wind jacket;
trekking pants and shoes (possibly in water-proof Goretex)
raincoat or poncho and waterproof backpack covers;
head lamp to reach Poon hill at dawn;
sleeping bag 0-10°;
water-bottle, to be filled with rivers' water (totally drinkable);
adhesive tape anti-leeches;
last but not least, a roll of toilet paper, because spicy Nepali food could ring at any time!
ITINERARY
Once at the crowded airport of Kathmandu you have 2 options to reach Pokhara (the city where you will start the trek): one is flying to it (with a noisy and very small propeller plane, only for the braves!) and the other is by bus, that will take around ten hours, if things go smooth, for a 200 km ride. Once in Pokhara just make a quick stop to purchase some snacks and some equipment that you might need, then have dinner in the main road, maybe with the traditional dal bhat (boiled rice, lentils, spices, curry and vegetables, with a slice of naan, a kind of flat bread). The lake offers you a good view, but this along with a buddhist temple are the only things to visit.
The trail is ring shaped and the best way to do it is in the clockwise direction, as suggested by many travelers who did it before.
Pokhara – Nayapul – Tikhe Dhunga (6-7 hours)
Starting from Pokhara you can reach the town of Nayapul by taxi or bus, then your adventure will start. Once you withdraw the entrance permit to the Annapurna Conservation Area, you will pass Tibetan bridges and rivers, for an easy start, perfect to warm up a little bit. Next village you'll find on your way will be Tikhe Dhunga, where you can take some rest and have lunch, maybe trying typical momos (dumplings stuffed with vegetables, spices and meat). Here you sleep for the night in one of the guesthouses, where you can meet other travelers.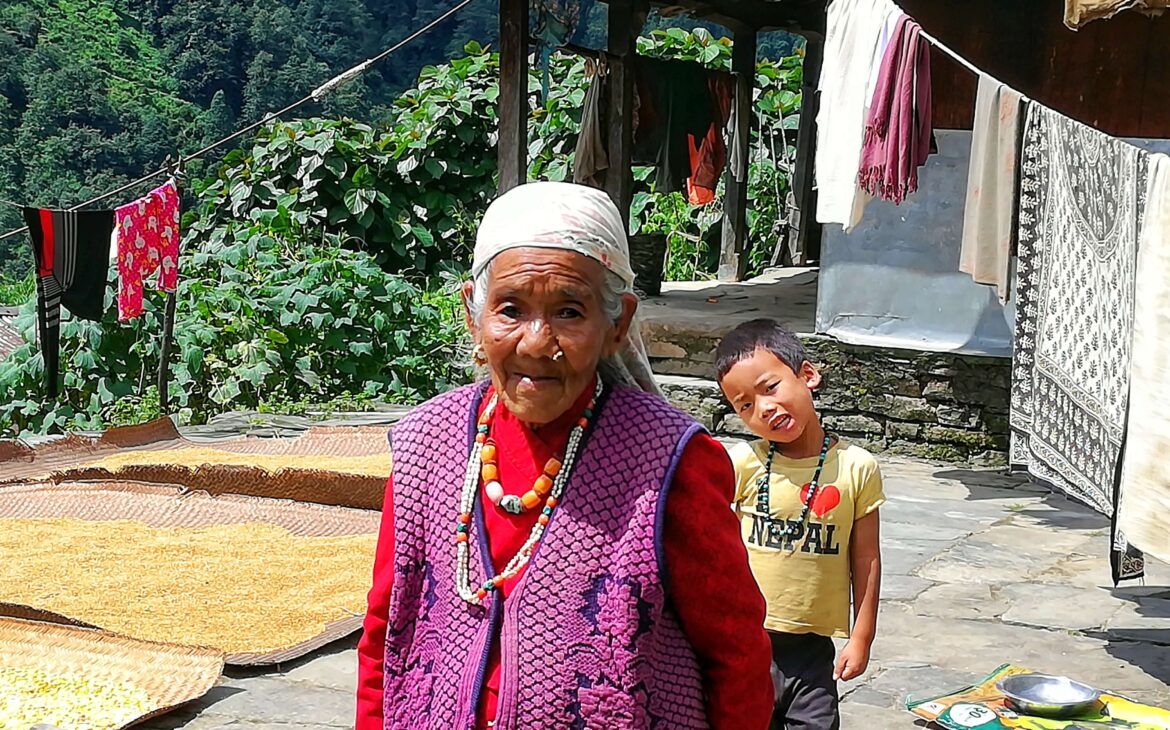 2. Tikhe Dhunga – Ulleri – Ghorepani (6-7 hours)
Second day probably will be the hardest one. The number of steps you'll find on the way is huge, moreover you will have the biggest difference in level of the entire trek. One past the small village of Ulleri you will finally get to Ghorepani, the closest one to Poon Hill. In the past this was a compulsory stop for ancient traders, in order to feed their horses and give them rest and water: its name comes from the Nepali words for horse (ghora) and water (pani).
This is the biggest village of the trail, divided into the lower and the upper part, with the highest presence of guesthouses and restaurants. Take a rest and enjoy a hot cup of chai, (tea with milk), because the day after you'll have a early morning rise.
3. Ghorepani – Poon Hill – Tadapani (5-6 hours)
An early morning rise that will be definitely worth it, for a day you will never forget: one of the most beautiful sunrise of your life is one hour of dark climb far away. Prepare yourself to gaze at her majesty the Himalaya frighted by the first rays of sun at dawn. Enjoy the view of some of highest peaks on earth and an unreal landscape. When you will continue your path, you'll pass through luxuriant woods and amazing viewpoints, in a medium level trail, until you reach the cozy Tadapani, laying on a hill where you can still staring at the mountains.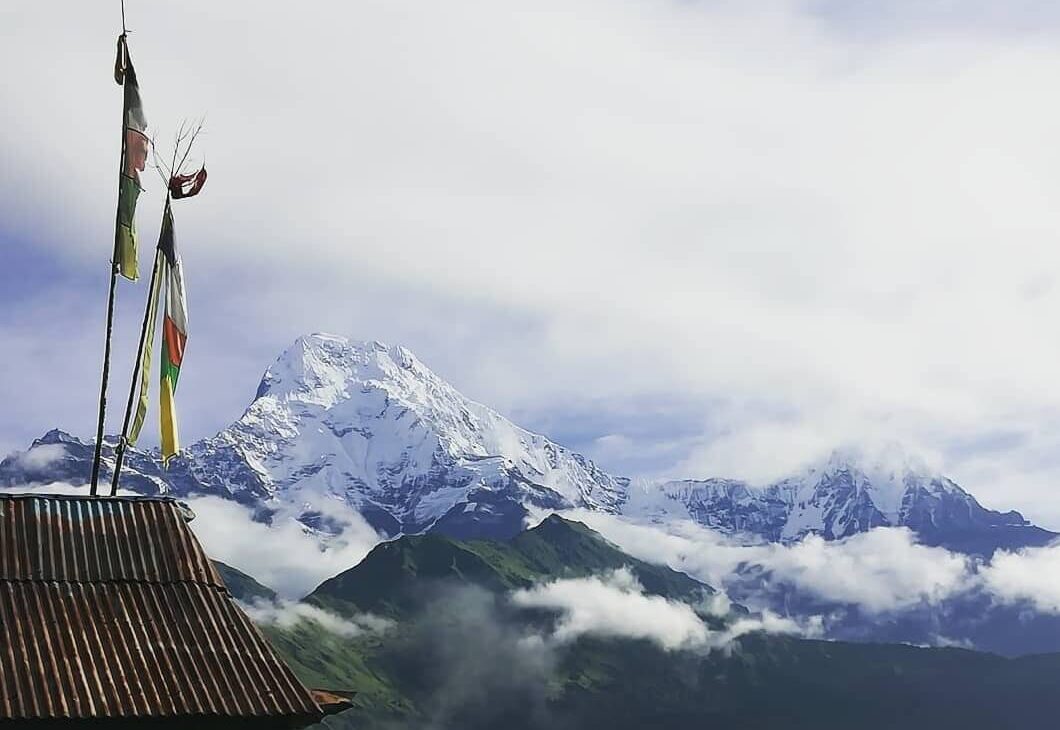 4. Tadapani – Ghandurk (o Jinhu) – Nayapul
Here you'll be at a crossroad where you can choose between ending the ring trail passing though Ghandruk (with its tea plantations) reaching the starting point, Nayapul, or making a little deviation and enjoying the natural hotsprings in Jinhu for a cushy overstaying. You decide!
EXTRA FUN
Once going back to Pokhara and returning to civilization I highly recommend to try an adrenaline experience as paragliding, from the hill of Sarangkot, a perfect overview of the lake. If you're lucky while making crazy stunts in the sky you'll have the chance to take a last look at the mountains.
Not bad the view of the roof of world, isn't it?