EXTRAORDINARY LIVES: the southernmost distillery, kiera and matt story.
It was said that Magellan, the well-known Portuguese explorer and sailor, reached the fjords at the southernmost part of the American continent, while circumnavigating the globe, in what is now called Patagonia. Then, he got lost in a maze of channels with no escape, while trying to get to the Pacific Ocean. So he informed the exhausted crew that the channel they were crossing would have been the last one, and after that just death. Fortunately they made it and survived: that channel was so called the channel of last hope, and that's where the city of Puerto Natales lays on, in the south of Chile.
On the contrary, there is someone who didn't try to find an escape route from this remote place, but decided to move to it from Australia. I'm talking about Kiera and Matt that right here, at the end of the world (read the story of Nana too), decided to start their own distillery, The Last Hope Distillery. Here is their story:
Hi guys, would you mind introduce yourselves?.
K: I am Kiera, I am a chemical engineer and I met Matt working in coal mines in central Queensland.
M: I am Matt, I am from a small town in Australia and now I am living in a small town in Patagonia. Formally I was coal mining engineer, now I have the pleasure of being a distiller and bar owner.
What was your life before and what made you change your life so deeply and take such a brave decision?
K: Working in an industry like coal mining was only a short term goal of mine before I wanted to move into an environmental policy type of role. However I had a boss who didn't appreciate how much I spoke up, especially with regards to safety issues, and I was made redundant in 2014. The redundancy came with a very decent sum of money, so I told Matt that I was going travelling for a year or so. Matt quit his job and came after me!
Where does your passion for gin come from?
K: My Mum has always been partial a nice gin and tonic, so it was one of the first alcoholic drinks that I learnt to enjoy! Since then I've learnt far more about gin! These days I love the mix between tradition and innovation that is involved in the production of gin. I also love that it's an open and fun spirit category, one that isn't difficult to learn how to drink, and that gin cocktails can range from long and refreshing and fruity to more serious, strong and savoury.
M: I actually had my first gin and tonic at a music festival when I started dating Kiera and was instantly hooked. Growing up in Queensland there is a lot of sugarcane, I was always more interested in rum than gin. However, I find that gin is such a flexible and forgiving spirit that the options for drinking and preparation are endless. 
How was it to start your distillery? Did you find any obstacles on your path?
K: So we had decided to base ourselves in Santiago, Chile, for a year, and use it as a base to learn Spanish and travel around South America. Our first trip away from Santiago was Patagonia, and we were absolutely spellbound by the place, particularly Puerto Natales. We were on a bus between Puerto Natales and El Calafate when one of us said to the other, "We could start a gin and whisky distillery in Puerto Natales". It was this crazy idea, but it sounded like the most wonderful adventure, and we figured that even if we failed, we'll have learned a lot and we could always move home and find a job.
When we returned to Puerto Natales after our visit to El Calafate, we asked the owner of our hostel if there were any real estate agents in Puerto Natales. Curious, he asked us why on earth two tourists wanted to know something like that, so we told him our plan. He went to talk to his wife and when he returned he declared "We will help you". They invited us to stay in their hostel over winter, while they would be in northern Argentina. We graciously accepted their generous offer and that was the first step we made towards making this dream a reality!
"We could start a gin and whisky distillery in Puerto Natales". It was this crazy idea, but it sounded like the most wonderful adventure.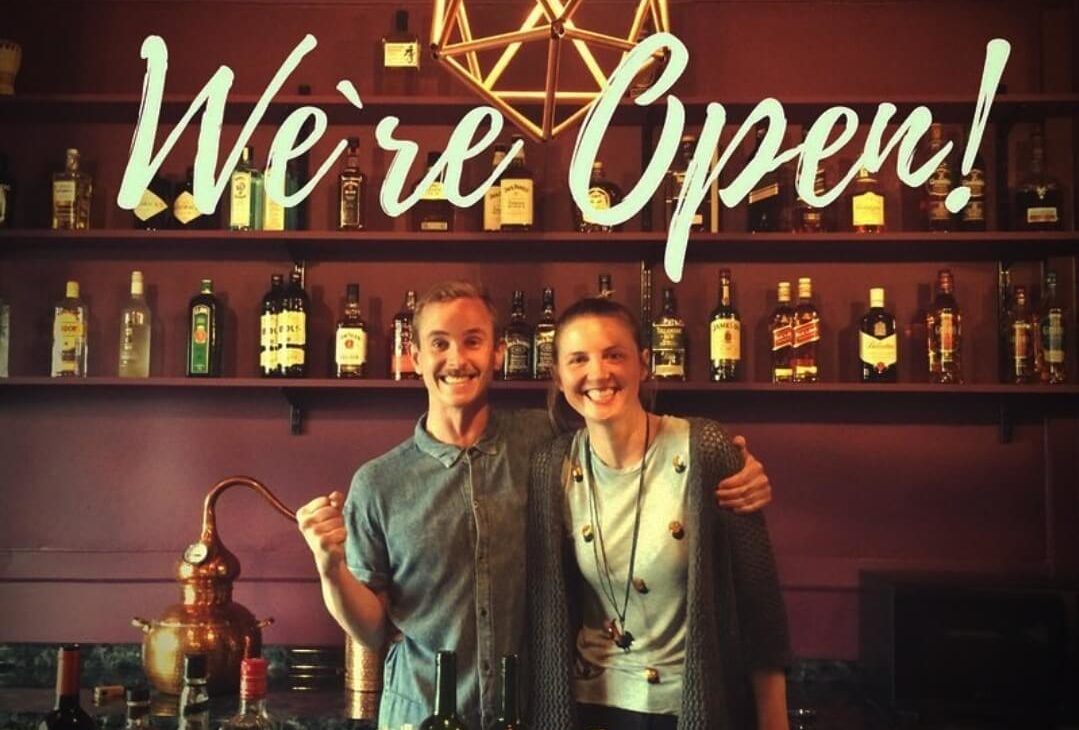 M: There are always obstacles to starting any new adventure whether that is a new job or moving house. We were fortunate to be able to rely on each other to get through the tough times and the Chilean people, especially in the South, are quick to help. At the very start the biggest obstacles were the Chilean banking system and real estate market which both operate very differently to what we were use to. Actually sourcing equipment, ingredients and knowledge had a steep learning curve but was never an obstacle. 
What I felt when I came into your distillery was a kind of magic in the air, both because of your passion involved in your job and because of the extreme care you put in doing your gin and your cocktails. Can you explain to me the process in making them?
K: Neither of us had ever had any experience producing gin, nor had we ever even worked in a bar, so we just set out to make the type of gin and cocktails that we would like!
We chose to make a very traditional style of gin, because that's exactly the sort of gin we like. A solid juniper-forward base with a local twist, and never anything that tastes too floral! It took us almost a year of experimenting to come up with our recipe, but we finally found it!
With running the bar and cocktails, we studied all the best sources that we could find. We are hugely indebted to the beautiful books published by so many of the best bars, particularly from the USA. We read these books, practiced their techniques, made their cocktails recipes and then adapted their ideas to suit local taste buds and to use ingredients that are available locally. We've also been hugely lucky to find some amazing staff, each of whom have helped improve our practices so that each of the cocktails we serve are extremely delicious and are made exactly following our specific recipes and methodologies.
From the first time we opened we challenged ourselves to change the menu every single month. It both kept us on our toes as we constantly had to innovate, as well as keeping our bar interesting for our local customers. Three years later, it also means that we have developed a library of cocktail recipes which enables us to better meet any customer's particular tastes!
M: We are big fans of Work Away where travellers can exchange work for free room and board. While renovating the bar and distillery we had some amazing couples come and stay with us for a couple of weeks at a time. Special mention must go to Fred and Hannah from England. Fred was a bar manager at Portobello Star and helped us create our first cocktail menu and music playlist. Both Hannah and Fred pushed for a soft opening which was an absolute success and got us out of renovating comfort zones. 
What do you love the most about this country and its people? How is it to live in Chile for two aussies like you? 
K: That natural beauty in Chile is incredible and is what attracted us at the beginning, as well as what drew us to Puerto Natales. Chileans are wonderfully friendly people, but the community in Puerto Natales is the most special to us. While Chileans can be quite closed-minded with regards to their food, drinks and friendship circles, Puerto Natales is completely different. Many of our friends in Puerto Natales came here from other parts of Chile, or the world, which means they too are outsiders in this town. That means that they are more open-minded than the typical Chileans who don't ever move far from home. The people that live in Puerto Natales want to make new friends, are always searching for new adventures, and have a more multi-cultural experience that you'll find in other parts of Chile. So we love living here, and we really feel that we have been accepted as part of the community, but I am not sure that we would be as happy if we lived in another part of Chile.
Patagonia and Natales are remote places, reached by the most adventurous travellers. Which are the most curious stories you have heard so far from one of your customers?
K: The diverse stories that we hear from our travellers are one of my favourite parts of what we do. We have met people who have climbed Everest multiple times; people that have sailed here in a yacht with their whole families on board with them; or other families that are roadtripping or bike riding around south America together; there's a boat captain that visits every now and then (apparently if you are a billionaire and want to sail your yacht through the ice-berg laden seas off Antarctica, he is your guy); we have met numerous people that have been travelling constantly for 10 years or more; and I can't count the number of people who have arrived from Alaska on motorbikes or pushbikes! But sometime the most inspirational stories come from those who are simply challenging themselves more than they ever have before. Torres del Paine was our first ever multi-day trek, and it is for many others too… not that I would actually recommend that you start with something as challenging as southern Patagonia for first-timers!
But sometime the most inspirational stories come from those who are simply challenging themselves more than they ever have before.
M: The variety of people that travel to Patagonia always astounds me and being able to hear their stories is an absolute perk of having a bar. People arrive using every form of transport imaginable and for some this will be where they spend their one week of annual leave. One thing very much on our bucket list is to see a puma and although we have been here for 5 years we still haven´t seen one! I blame Kiera for hiking too loudly haha. We have heard stories of people packing up their campsite only for a puma mother with her cubs to walk right in front of their van. 
What is the situation nowadays and what do you hope for the future of your distillery? Do you have any dreams?
K: Our bar has been closed since March, and we have no idea when we might be able to open again. We are lucky because we also have the distillery side of the business and we have been focusing our efforts on gin sales within Chile. Eventually we would love to export our gins to other countries!
M: We were extremely fortunate to have just had a raging high season when the COVID19 situation forced a premature close. With the bar closed to the public we now do home deliveries on Fridays and Saturdays with a more compact cocktail menu. The distillery is still performing well and it is true that people like to drink in good and bad times. One silver lining is that with more time on our hands we can finally get a move on with distilling our whisky. My hope and dream is that the world can overcome this situation and people can travel and socialize like they once did. 
Follow Kiera e Matt on their Instagram profile @lasthope_distillery and on their website http://www.lasthopedistillery.com!